Providence Baptist Church Financial Offering Options
(Providence Baptist Church is a nonprofit organization – all donations are tax deductible.)
1) US MAIL: Submit your tithes, offerings, or donations by check to:
Providence Baptist Church
Attn: Trustees
319 Nelson Street
Kernersville, NC 27284
2) MAIL SLOT: Place your tithes, offering or donation in a business envelope and drop it into the church's mail slot to the right of the side entrance, next to the main parking lot.
3) ONLINE BILL PAY VIA YOUR BANK ACCOUNT:  Donate to Providence Baptist Church through online bill payment with your bank or credit union. Your bank or credit union will mail a check per your instructions. Contact your bank for details and instructions.
4) GIVELIFY: Use Givelify (pronounced like "simplify") to give your tithes, offerings, or other defined donations. It is quick, easy and accurately tracks a complete history of your donations for taxes. It's simple, safe, and secure.
You can give online or use the app:
Give  online via the Givelify website: Click the link or picture below to be redirected to the site. If you already have the Givelify app on your smart device, use the same email address on the website that was used to set it up on your smart device.
Providence Baptist Church of Kernersville, NC – Givelify Site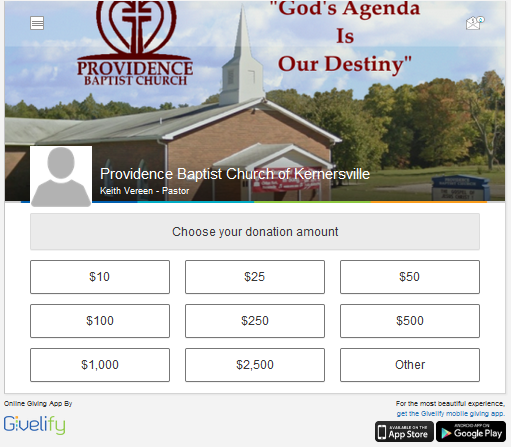 Give using the app:
Download the free Givelify app (
click here
) to make donations on your
Android phone, iPhone, or other smart device
. Follow the instructions to create your giving account make and
Providence Baptist Church
your favorite.
Click here to view a video of Givelify using the mobile app.
Click here for a video of how to create an account and make your first donation.
Click here for information on how to setup a recurring donation. Givelify supports recurring gifts to be processed daily, weekly, every 2 weeks, monthly, or twice a month (1st and 16th of each month).